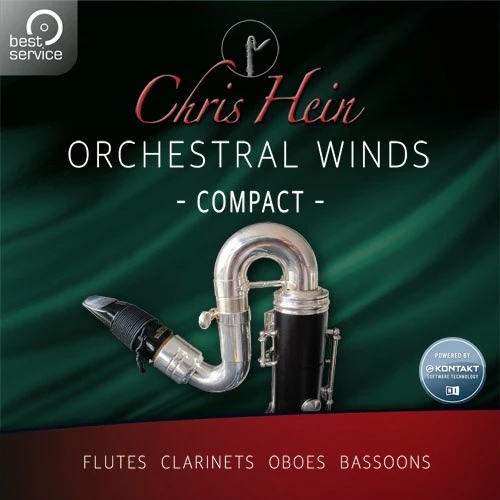 Best Service Chris Hein Winds Compact KONTAKT

Chris Hein Winds Compact is the light-edition of the unique four-part library Winds Complete. It offers the same number of instruments: four transverse flutes, three clarinets, three oboes and three bassoons.

For the Compact edition, the most important and common articulations and functions have been selected from the Complete edition. At the same time, this woodwind-library doubtlessly meets the highest expectations in regard to sound quality, expression and applicability. The library's instruments are based upon meticulously, carefully prepared multisamples with detailed phase-alignment for phase-correct blends and crossfades of dynamic layers. Up to eight dynamic layers guarantee for realistic sounding results.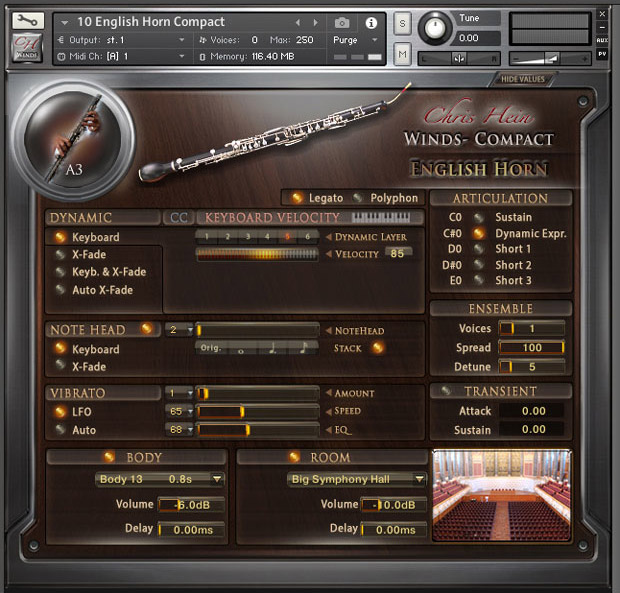 Because of its exceptional and highly versatile sound quality Chris Hein Winds Compact is a perfect addition to any orchestral library, especially for productions with woodwinds playing a prominent role; be it in classical compositions, epic film-scores or orchestral pop-ballads.

Among the undeniable highlights of the library are true legato, variable attacks per note, innovative play-aids such as hot keys, note heads and MIDI remote controllability of all functions via TouchOSC.

In case, the immense amount of articulations, as demanded by elaborated scores, is not needed, Chris Hein Winds Compact offers an efficient choice of woodwinds meeting the highest sonic expectations. Chris Hein Winds Compact naturally relies on a powerful sample-engine, in this case Native Instruments' Kontakt Player. Expect a custom tailored user-interface and extensive scripting to respect the specific requirements of the instruments presented.

Besides careful recordings with high quality gear such as selected Neumann microphones, the musicians significantly influence the sound aesthetic. Unlike the award-winning Chris Hein – Horns, this library takes advantage of musicians being part of the renowned WDR Symphonic Orchestra.

For this library, dry close mic'ing was an intentional decision. All instruments have been recorded individually avoiding any crosstalk. However, Chris Hein Winds Compact factors in the inevitable interaction of orchestra musicians when creating their musical tone. Therefore, the participating musicians where given headphone monitoring, allowing them to play along to each other.

The intentionally dry sound of Chris Hein Winds Compact allows an efficient combination with the sample-engine's dual convolution reverbs to adapt the instruments' to various situations. The Kontakt Player permits free instrument-placement in the stereo panorama. In addition, separate convolution engines for the corpus-sound (body) and the ambience (room) allow creation of any spatial environment, ranging from close intimacy to large orchestral halls. Here, Chris Hein Winds Compact differs significantly from the fixed spatial characteristics of many competitors. It makes this library greatly variable and, additionally, combinable with almost any other library available.

Requirements
The latest NI Kontakt Player is included in this product!

The minimum Kontakt Player version to use this library is specified in the product description.

Windows:

Windows 7, 8.1 or 10 (latest Service Pack, 32/64-bit)
Intel Core 2 Duo or AMD Athlon 64 X2, 4 GB RAM (6 GB recommended)
Mac:

Mac OS X 10.9, 10.10 oder 10.11 (latest update)
Intel Core 2 Duo, 4 GB RAM (6 GB recommended)
For All:

1GB free disc space for player installation
additional hard disc space according to the library size
internet connection for product activation required (on any computer)
Supported Interfaces:

Stand-Alone
VST
Audio Units
ASIO
CoreAudio
WASAPI
AAX Native (Pro Tools 10 or later)

请使用 KONTAKT v5.5.0 或更高版本打开

Home Page – https://www.bestservice.com/chris_hein_winds_compact.html
声明:本站所有资源,均来自各大收费资源站和互联网,原封资源,未做任何修改!资源仅供学习参考使用,请勿用于非法、商业用途,否则一切后果自负,与本站无关。