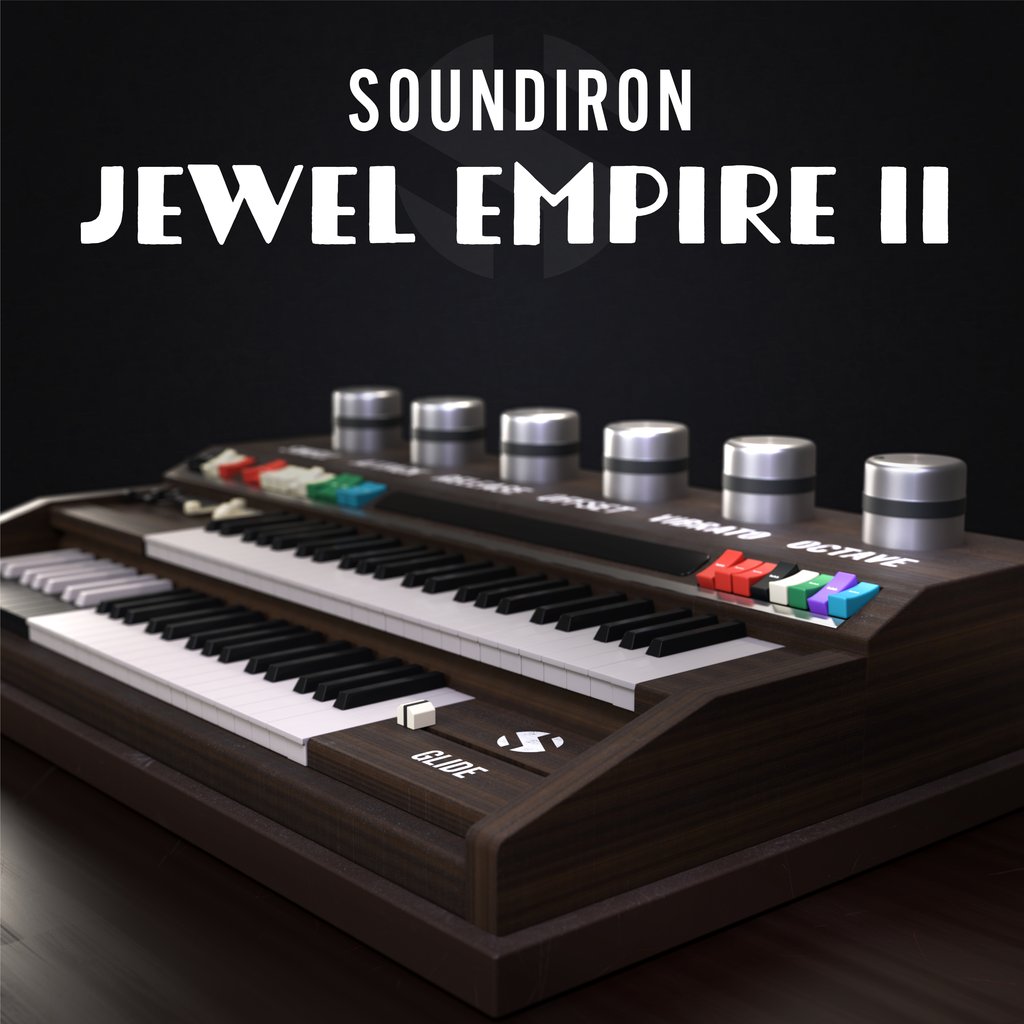 Soundiron Jewel Empire II KONTAKT
P2P | 17 April 2021 | 7.1 GB
Soundiron's Jewel Empire II captures the versatility and specific character of the GEM Imperial II electronic organ. The GEM series of instruments were manufactured by GeneralMusic in Italy sometime during the late 80s and early 90s. The GEM Imperial II is a large electronic organ with two keybeds and a large variety of voice tabs, a dedicated Bass voice section, and drawbars to control a lot of voice functions. Our Jewel Empire II features a large selection of sustains and staccatos – both normal and bass – to capture the varied character of this Italian instrument. We recorded the instrument articulations in wide stereo and direct line in. After that, we crafted twenty evolving atmospheric pads from the source content to enhance the versatility. The Jewel Empire II has versatility and character that makes it a good addition to any composer's sonic palette.
We've packed the GUI with lots of great sound-shaping controls that give you the flexibility to warp the sound in many ways. You have control over Volume, Attack, Release, Transient Offset, Vibrato and Octave layering. The "Glide" control slider allows you to play legato and portamento leads. You'll also find an adaptable LFO system, with selectable LFO shape, modulation target parameter, speed, intensity, tempo-syncing and fade-in time. You can also apply your choice of 13 lowpass, high-pass and FX filter, with assignable modulation control options, including velocity, modwheel, expression, after-touch, key position and step-sequencer table control. You can also use our customizable arpeggiator, with a built-in velocity sequencer table and control over arp direction, note timing, swing, randomization and duration.
CONTENTS
Jewel Empire II was recorded in a dry studio using a pair of Neumann TLM 103 large diaphragm microphones and direct line in. We recorded its stock presets with sustains and staccato samples, as well as its bass presets. The included octave, vibrato and FX rack give you an easy-to-use interface to completely customize and shape its fat analog sound to fit a variety of creative styles.
The library comes equipped with flexible control features, like Swell, pitch Glide, Attack, Release, Vibrato, and Octave. There's also a complete DSP effects rack, including convolution reverb with dozens of unique spaces, such as cathedrals, churches, halls, bunkers, garages, tunnels, chambers, rooms and plenty of otherworldly FX impulses to fully explore and endless variety of strange and unexpected sonic manipulations.
– Advanced performance controls, vibrato, glide speed, LFO, Filter, Arp and full FX rack.
– Sustains, staccatos, FX pads, and sound-designed samples.
– Turn the Glide slider up for monophonic legato functionality, or turn it down to 0 for standard polyphonic mode.
– The Octave knob gradually adds a lower and higher octave doubling effect for more body and power.
– Convolution Reverb with 119 different cathedrals, churches, chambers, rooms, halls and special effect impulses.
– A full multi-effects rack, with EQ, filter, phaser, flanger, delay, distortion, amp & speaker simulation and more.
Product Specs:
– 3 main powerful open-format Kontakt .nki instruments
– 20 Ambience patches created from the source content
– Synth Sustains, Staccatos, and FX Pads
– 20 Custom Sound-Designed FX and Ambient presets
– 7.5 GB Installed
– 6,973 Stereo Samples
– 24 bit / 48kHz Stereo uncompressed PCM wav audio
– Unlocked wav samples can be directly imported into almost any wav-compatible plugin or DAW

Home Page – https://soundiron.com/products/jewel-empire-ii
声明:本站所有资源,均来自各大收费资源站和互联网,原封资源,未做任何修改!资源仅供学习参考使用,请勿用于非法、商业用途,否则一切后果自负,与本站无关。