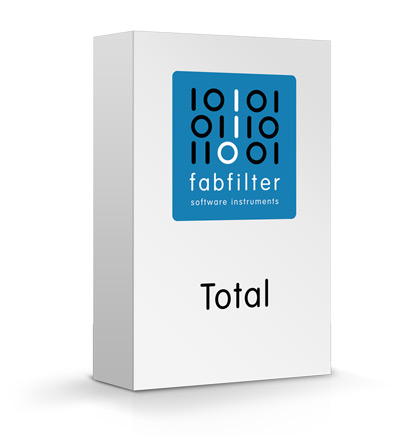 FabFilter Total Bundle 2021.05.07 WiN, MacOSX
WIN: Team RET | 38.8 MB | MAC: MORiA | 160 MB
Total Bundle是一组所有FabFilter插件。有了这个捆绑包,您可以获得当今可用的最好的EQ,压缩器,限制器,去esser,门/扩展器,多频带失真,立体声延迟,滤波器和合成器插件。
包含以下插件
FabFilter Pro-Q3-用于混音和母带制作的Allround EQ插件,具有多达24个频段和华丽的界面,可轻松,精确地进行编辑。
FabFilter Pro-MB-具有独特工作流程和信号处理功能的多功能高质量多频段动态插件。
FabFilter Pro-L-专业的功能齐全的砖墙限制器,适用于透明母带以及单个仪器限制。
FabFilter Pro-C-专业的压缩器插件,具有通用的路由和侧链选项,高品质的声音和创新的界面。
FabFilter Pro-DS-高度智能和透明的Desess插件,非常适合单个人声轨以及整个混音。
FabFilter Pro-G-高品质门/扩展器插件,用于混合和母带制作,具有灵活的侧链选项和出色的界面设计。
FabFilter Saturn-创意的多频带失真和饱和度插件,具有令人难以置信的调制选项以及创新的"用什么即看"界面。
FabFilter Timeless 2-具有时间延长功能的创意立体声磁带延迟插件,最佳滤波器和创新的拖放界面。
FabFilter Twin 2-强大的合成器插件,具有最高的音质和超灵活的拖放调制系统。
FabFilter Volcano 2-多功能滤镜效果插件,具有最先进的滤镜技术和无限的调制可能性。
FabFilter Simplon-基本且易于使用的滤镜插件,带有两个高质量的多模式滤镜和一个交互式滤镜显示屏。
FabFilter One-基本的合成器插件,仅带有一个振荡器,但具有经过微调的控件以及最佳的声音和滤波器质量。
FabFilter Micro-最终的轻量级过滤器插件,使经典的FabFilter声音对每个人而言都负担得起。
The Total Bundle is a set of all FabFilter plug-ins. With this bundle, you get our professional EQ, reverb, compressor, multiband dynamics, limiter, de-esser and gate/expander, creative multiband distortion, delay, filter and synthesizer plug-ins.
FabFilter Pro-L 2, a major update to the Pro-L limiter plug-in, is now available.
With four brand-new limiting algorithms, a new true peak limiting mode, extensive standards-compliant loudness metering, surround support and many other new features, Pro-L 2 has been improved in every way while still remaining the benchmark of simplicity and effectiveness in limiters, say FabFilter.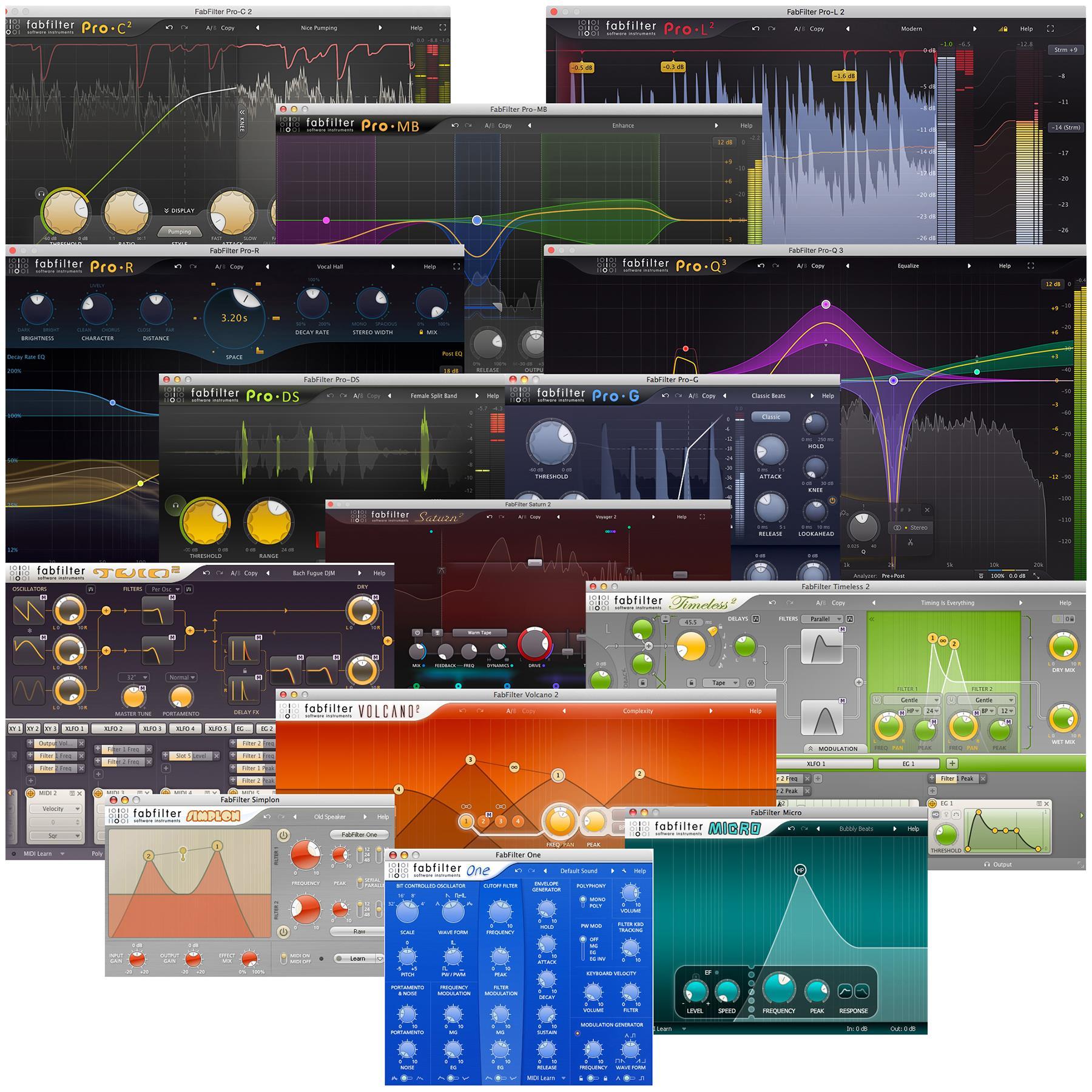 New limiting algorithms
FabFilter Pro-L 2 introduces four new limiting algorithms. Modern is the new 'best for all' algorithm that produces even better results than the Transparent and Allround algorithms from version 1. Aggressive is great for maximum loudness, well suited for EDM or rock music. Bus has been designed specifically for drums and limiting of individual tracks, while Safe's goal is not maximum loudness, but to avoid distortion at all times.
True peak limiting and loudness metering
The new true peak limiting feature in FabFilter Pro-L 2 makes it extremely easy to hit a maximum true peak target. Just set the output level to the desired value, enable True Peak Limiting and that's it. Combined with improved true peak metering and extensive loudness metering that's compliant with the EBU R128, ITU-R BS.1770-4 and ATSC A/85 standards, Pro-L 2 is the perfect fit for any loudness normalization job.
Advanced processing
Complete support for surround audio with flexible channel linking makes FabFilter Pro-L 2 much more versatile in multi-channel scenarios, while the sound quality is even higher than before with up to 32x linear-phase oversampling. New features like a DC offset filter, external side chain triggering for stem mastering and a Unity Gain option ensure that Pro-L 2 is the solution to any mastering challenge.
Interface enhancements
The unique real-time level display is now even more effective with new innovative display modes, including an Infinite mode that shows all audio for an entire session. Moments of significant gain reduction are highlighted with peak labels to give additional insight in the limiting process. Last but not least, the interface has been carefully redesigned to be aesthetically pleasing with a perfectly optimized workflow.
Key features:
Great transparent sound combined with maximum loudness.
Eight sophisticated, carefully tuned limiting algorithms, all with their own character and purpose.
True peak limiting.
Up to 32x linear-phase oversampling to minimize aliasing and inter-sample peaks.
Low CPU usage.
Highly accurate output and gain reduction metering including true peak metering.
Extensive loudness metering with support for the EBU R128, ITU-R BS.1770-4 and ATSC A/85 standards.
Various meter scale settings, including K-System support.
Surround support including Dolby Atmos 7.0.2 and 7.1.2 formats with flexible surround channel linking.
Unique, highly informative real-time level display, showing input, output, gain change and loudness levels over time with key gain reduction readings and four different display modes.
Optional DC offset filter.
External side chain triggering for stem mastering.
Unity Gain option to easily listen to the effect of the current limiting at unity gain level.
Audition Limiting option to listen to the difference between the input and output signal.
Adjustable Look-ahead, Attack and Release settings to fine-tune the sound of the algorithms.
Separate, freely adjustable channel linking for both the transient and release stages.
Professional dithering with three different noise shaping algorithms.
Easy to set up for common limiting situations with the included factory presets.
Adapts automatically to stereo, mono and surround channel layouts.
Full Screen mode for precise adjustments and insightful metering.
Multiple interface sizes: Small, Medium, and Large, as well as a separate Compact mode.
Retina support on OS X and High DPI support on Windows.
GPU-powered graphics acceleration.
Supports common Pro Tools hardware control surfaces.
So what's new in this update

Pro-Q 3:
Added optional external side chain triggering to EQ bands. To use this, first click on the Auto Threshold button above the dynamic range ring to enable custom threshold mode. Next to the threshold slider, click the new External Side Chain button to enable or disable triggering on the external side chain input.
Made the Processing Mode and Processing Resolution parameters non-automatable, to prevent automation from changing the latency during playback. In addition, all interface-only parameters such as the analyzer settings are now also non-automatable.
Fixed bugs that could cause ringing sounds or sweeping filter effects when using higher order dynamic filtering.
It is now possible to solo disabled bands again, like in Pro-Q 2.
Fixed a bug that prevented copying and pasting automation from marking all parameters as changed in the preview buffer in Pro Tools, making it impossible to overwrite existing automation.
Fixed a bug that caused the gain of a band to jump to zero when using the mouse wheel to adjust the Q in solo mode with the Gain-Q Interaction option enabled.
Fixed a bug that caused the interface to become all white after double-clicking to edit a text value in the Audio Units plug-in in Ableton Live 10 on macOS 10.13.
Fixed an issue that could cause the Audio Units plug-in to freeze for a while in Ableton Live when adding new bands.
Fixed a bug in the EQ display that made it impossible to enter permanent spectrum grab mode when already in spectrum grab mode.
Fixed a crash when entering EQ Match mode when there is no "stereo" yellow result curve in the EQ display (for example, if there are only Mid bands).
All plug-ins:

Updated plug-in for full compatibility with Mac hosts built specifically for macOS 10.14 (Mojave), such as Logic Pro 10.4.4, running under macOS 10.14.0 or 10.14.1. Previously this could lead to an all-black plugin interface.
Improved the way settings are saved when multiple plug-in instances are open to make sure the last setting that was chosen is saved correctly for new instances.
Added support for 300% scaling on 8K displays (High DPI) on Windows.
Fixed an issue that could cause incorrect scaling of the plug-in interface in Cubase 10 or Live 10 on High DPI displays in combination with certain graphics drivers on Windows.
Added a Refresh item to the Options submenu of the presets menu: this makes it possible to manually refresh the menu (and any V1/V2 Preset Folder submenus if available).
Fixed a bug on Mac that could cause program changes received by one plug-in to be forwarded to other FabFilter plug-in instances.
Pro-C 2, Pro-G: Added visualization of the plug-in input and output levels on Pro Tools control surfaces.
Pro-C 2, Pro-G: Fixed a bug that could cause the plug-in to stay in a triggered state if Enable MIDI is turned off while the plug-in is currently triggering on a MIDI note.
Pro-DS, Pro-L 2, Pro-MB: Added visualization of the plug-in output level on Pro Tools control surfaces.
Pro-L 2: Improved the Pro Tools page table mapping for control surfaces.
Pro-MB: Fixed a bug that could cause the plugin state to become corrupt, with the plugin output becoming silent in some very rare combinations of settings and audio input.
Volcano 2: Fixed a bug that caused entering frequency values by note name (e.g. "A4") to always result in the maximum frequency value, and potentially cause a crash as well.
Various minor bug fixes and improvements.
Team V.R – WIN
FabFilter Micro v1.22
FabFilter One v3.33
FabFilter Pro-C 2 v2.12
FabFilter Pro-DS v1.16
FabFilter Pro-G v1.26
FabFilter Pro-L 2 v2.07
FabFilter Pro-MB v1.23
FabFilter Pro-Q 3 v3.17
FabFilter Pro-R v1.10
FabFilter Saturn 2 v2.03
FabFilter Simplon v1.32
FabFilter Timeless v3.00
FabFilter Twin v2.32
FabFilter Volcano v2.32

For MAC:
FabFilter Micro 1.22
FabFilter One 3.33
FabFilter Pro-C 2.12
FabFilter Pro-DS 1.16
FabFilter Pro-G 1.26
FabFilter Pro-L 2.07
FabFilter Pro-MB 1.23
FabFilter Pro-Q 3.17
FabFilter Pro-R 1.10
FabFilter Saturn 2.03
FabFilter Simplon 1.32
FabFilter Timeless 3.00
FabFilter Twin 2.32
FabFilter Volcano 2.32
All the rest discontinued plugins are released separately.
Home page – https://www.fabfilter.com/products/
声明:本站所有资源,均来自各大收费资源站和互联网,原封资源,未做任何修改!资源仅供学习参考使用,请勿用于非法、商业用途,否则一切后果自负,与本站无关。